Quite a few months ago.... March to be exact~ I found this sparkly dress at the Goodwill and loved it! I thought it would be fun to fix up a bit. I don't wear spaghetti straps and the back was a bit on the low side for me so those of the things I wanted to change about the dress. I decided to model my dress after Disney's live action Cinderella (the movie is incredible, btw!).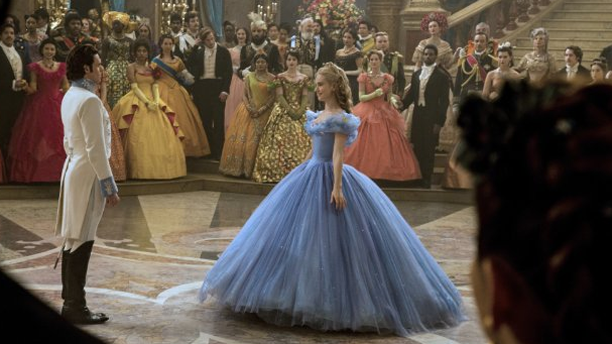 Someday, I want to do this dance from the ball-scene! I love it!
So, I went to JoAnns with my sister and tried to find a matching blue tulle... which was basically impossible! Everything was either too blue and didn't match the soft blue or brought out a greenish tent in the sequences. Defiantly did not want that.
Matching.....
Finally, I settled on a white cause-- you can't go wrong with white!
Then my other sister and mother helped me sew it on--- literally sew it on me. Apparently I need one of those dress forms....
Then we had to figure out what to do with all the extra fabric everywhere. I did *not* want my dress to look like Elsa from Frozen! Oh, and by the way, this fabric got glitter all over the place! I loved it! So much fun!!
I asked a seamstress friend for an idea of what to do with all my extra, bulky fabric. She sent me these beautiful illustrations of her ideas!
by Mrs. Silliman
by Mrs. Silliman
I ended up doing Idea #1 with a little blue rose accessory pin and left the fabric draped down, but I wore my hair down so the flower didn't even show--- oh well!
After my sister and mother tacked everything~~ I sewed it all together.
And then ta-da!! It was finished!!
Front view
Side view in action
My siblings decided to get in on the action and all find their own unique sequence/sparkle looks! I think I started a pretty fun trend. :)
So..... that's how I put together my "Cinderella Dress"!!
This year I've been sewing a *lot* more! I started helping out with sewing for Northwest Classical Ballet's Cinderella show this past Spring and am looking forward to helping with the costume sewing for the Nutcracker production this winter! Brace yourselves, I plan to post lots more pictures of sewing! And I keep visiting the Goodwill and the dress section keeps calling my name-- so you never know what will be up next for editing and adjusting and dressing up!